A Touch of Class is going

Green

and this is how:


We removed low-efficiency office lighting and replacing it with HE LED lighting. We have updated all repair center indoor and outdoor lighting to LED & Ultra-Efficient Fluorescent High Bay energy saving light fixtures. Our spray booths have also been updated to reflect the highest energy saving lighting available.
We have purchased energy-efficient office equipment. This energy-efficient equipment automatically powers down when not used for a period of time and can be recognized by looking for the familiar ENERGY STAR label. With ENERGY STAR equipment, energy use can be reduced by 50% or more. This also helps reduce the load on air conditioning equipment and it helps to protect the environment.
We removed inefficient heating systems and replaced them with RE-VERBER-RAY® infrared tube heaters.
Infrared heaters cut fuel costs with lower temperature settings. A gas fired infrared heating system emulates the efficiency of the sun by generating radiant energy that is converted into heat when absorbed by objects in its path. Once the infrared energy is absorbed by the floors, machinery, cars and people, it is then re-radiated to warm the surrounding air. This has allowed us to lower thermostat settings between 5 and 10 degrees and still maintain desired comfort levels in our repair facility. The high efficiencies of installing RE-VERBER-RAY® equipment has resulted in experiencing fuel cost savings of nearly 50%.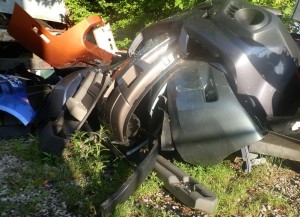 Choosing bumper reconditioning over replacing saves the costly resources involved in manufacturing and transporting new replacement parts. It also allows for less refinish materials to complete the repair. The basecoat color will only be required in the repaired area.
By Purchasing a Nitrogen Welding System made by Urethane Supply Company we do our own reconditioning of bumpers which allows us to save more bumpers from being sent to landfills. The reconditioning process of these bumpers allows our customers a more cost effective way of repairing their vehicle minor bumper damages without making an insurance claim.
We recycle:
• 95% of our scrap aluminum and steel parts.
• 95% of our cardboard
• 100% of our batteries
• Fluids such as antifreeze, oil and transmission fluid are collected and sent to EPA approved recyclers.
We collect our damaged rims, headlamps and tail lamps for recyclers. After those companies recondition these parts they are resold for future repairs in the industry.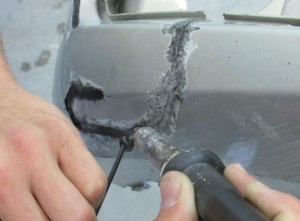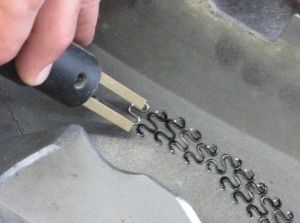 In August of 2015 we have started our energy efficiency program for our Accudraft Spray Booth by upgrading our current inefficient booth control technology to new energy efficient Programmable Logic Controls.
These controls are the first phase of our commitment to PPG ENVIROBASE paint systems. These controls are more energy efficient in controlling our natural gas & electric consumption to operate our Accudraft Spray Booth.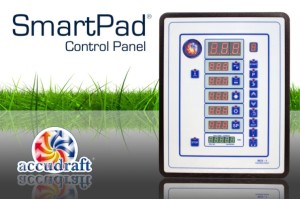 The Accudraft SmartPad™ is a digital touch pad controller that includes all processes in one computerized unit. Programmable Logic Controls (PLC) allows our technicians to make changes on the fly and allow access to all phases of the spray and curing process. Settings include adjusting cycle time, temperature, waterborne system activation/deactivation, lighting settings, burner control, heat intensity and reaction time based on season of the year and much more. The Accudraft SmartPad™ contains 2 completely separate operating modes. Mode 1 is for standard solvent based coatings. Mode 2 is for low-VOC or waterbased coatings. Program features change and settings are pre-loaded for each mode. In addition we have also installed EnergySmart™ VFD Drives whith this modern technology we can save up to 50% on our electric usage. Traditional spray booths use standard motor startup which causes a spike to almost three times the motor's operating amperage rating. Power companies charge according to the highest draw from your facility even if it only happens for an instant. With the EnergySmart™ VFD system, all motors start softly and then ramp up to their target amperage, avoiding the costly initial spike at every startup. The EnergySmart™ VFD package also allows our booth to run smarter. Traditional spray booths run all motors at 100% all the time and it is usually the painter's job to choke or release a damper to keep the right cabin pressure. By adding EnergySmart™ VFD's and the Accudraft SmartPad™ control panel, dampers are eliminated and the system actually slows down/speeds up our fans to achieve the proper pressure in the booth. This way, our booth is using only the power it needs instead of running full blast and choking the airflow anyway.
By purchasing a Uni-Ram Solvent recycler our paint technicians recycle and re-use our paint solvents. We normally would have these solvents transported to an EPA approved recycling facility and re purchase solvents to use in our refinishing process. We have now drastically reduced the amount of solvents purchased and recycling fees per year because of this process. This process also reduces the removal and shipment of hazardous waste in the community.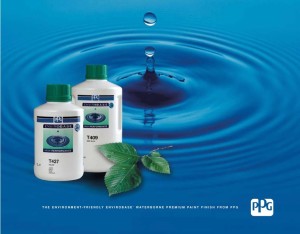 In 2015 A Touch of Class has stopped using solvent based paint systems and move to PPG Envirobase® High Performance Waterborne Refinishing System. Initially introduced in 1999 to meet low VOC legislation, the ENVIROBASE® High Performance system is now the leading premium waterborne paint system in North America.
June 2015 in our effort to become more energy efficient we hired Air Technologies to perform a energy efficiency study on our current compressors. The study informed us how poorly our 20 year old compressors performed compared to the newer state of the art technology offered by Atlas Copco.
Atlas Copco's innovators have brought a game-changing design to the compressor industry. The GA 7-15VSD+ offers a ground-breaking and space-saving, vertical drivetrain design, energy-saving variable speed drive (VSD) and a compact, interior permanent magnet motor. Energy consumption is reduced by 50% on average, with improved performance and nearly silent operation. The best-in-class screw element provides up to 12% more free air delivery than the previous model and has proven quiet and reliable performance in the harshest conditions.
When applicable we use Paintless Dent Repair (PDR) methods. This procedure allows us to eliminate repair processes and refinishing procedures. PDR allows our technicians to repair your vehicle by the most environmentally friendly way to correct minor damages. The most common practical use for PDR is the repair of hail damage, door dings, minor creases, shallow large dents and some bodyline damages. Our trained technicians use special tools to massage the dents out and preserve the factory paint.
If you're wondering whether or not your vehicle damages qualifies for our paintless dent removal process, contact us by Email or call to speak with a member of our service staff and they will be happy to answer questions and set up an appointment for our assessment.
In our effort to continually look for new ways to be environmentally conscience, we have purchased a THERMA-STEEM® vapor cleaner. This allows our technicians to clean your vehicle without the use of chemicals. No harmful fumes, residues or by products are left in your fabric or interior components.
Using only water, our dry steam vapor cleaner uses a boiler to heat water under pressure up to 330 degrees internally. This allows the steam produced to be very dry, less than 5% moisture. The low moisture content and rapid evaporation of the steam protects everything from your upholstery to sensitive electronic controls found in today's high tech vehicle. The benefit of sanitizing without chemicals, our dry steam vapor cleaner reduces the amount of water waste normally generated in old school cleaning techniques.